Vacheron Constantin
 Rolex | Patek Philippe | Audemars Piguet | Richard Mille | Jacob & Co. | A. Lange & Sohne | Tiffany & Co. | MB&F | Panerai | Cartier | F.P. Journe | Vacheron Constantin | IWC
Vacheron Constantin
When it comes to the history of luxury Swiss watchmaking, Vacheron Constantin was founded in 1755 and the watch brand is still going strong after all these years. We've chosen examples of watches and watch made that have both stood the test of time and been awarded the coveted gold Geneva Seal.
This Is How It All Began
In 1755, Mr. Jean-Marc Vacheron established his atelier in the middle of Geneva. Then in 1819, the company welcomed Mr. François Constantin, a rising star in the sales world who lived by the slogan "Do better if feasible, and that is always possible." His son and grandson soon followed suit. Vacheron Constantin, which is now controlled by the Richemont company in its whole, is a real grande maison, a master of every high-horological intricacy and a virtuoso in the métier d'arts ornamental crafts.

The Mechanical Uprising
In around the middle of the nineteenth century, a revolution occurred: the invention of machines that could mass-produce components with such accuracy that they could be used interchangeably with only small tweaks. Mr. Georges-Auguste Leschot, who joined Vacheron Constantin Watches in 1839, was an early innovator in this field. He patented the "pantograph," a device that accurately and repeatedly centres and drills holes in plates and bridges based on the geometry of a preexisting template.


Attractive Characteristics
With the advent of electricity and motors, Vacheron Constantin Watches joined an organization that studied non-magnetic materials in 1862, when magnetism was only beginning to pose a serious threat to the delicate metallic components of watches. In1885, the business used a balance wheel, balance spring, and lever shaft made of palladium, lever arms made of bronze, and an escape wheel made of gold to make the first nonmagnetic watch.
This Is On A Whole New Level
Vacheron Constantin turned 260 in 2015, so how did they mark the occasion? How? By revealing the world's most complex watch. To create the double-dial horological masterpiece of hitherto inconceivable technological ingenuity that is the bespoke Reference 57260, three of the company's Master Watchmakers spent eight years.
Explore Vacheron Constantin Watch Models
Patrimony: Simple, Flat, Elegant Vacheron Constantin Watches
The watch brands, designers and company's creations embody the exact standards of Fine Watchmaking. A technical designer and watch brand signature of quality and distinctive look.
Please take a look at our carefully curated collection of  Vacheron Constantin Watches and as always, please reach out to us if you have any questions or are interested in obtaining the unattainable! 
Vacheron Constantin | Overseas Perpetual Calendar Ultra-Thin 4300V/12OR-B064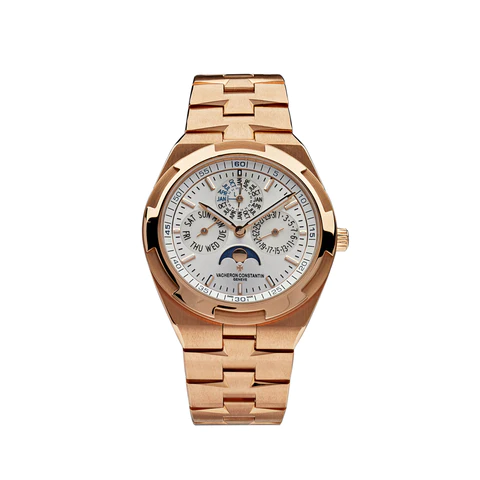 OVERSEAS PERPETUAL CALENDAR ULTRA-THIN
This 18-karat pink and yellow gold and timepiece is a beautiful example of how Fine Watchmaking complications details can complement a more casual style. An ultra-thin perpetual calendar keeps the right date shown until the year 2100 and measures only 8.10 mm in thickness. The calendar is accompanied with a moon phase depicting a starry night sky and two golden moons. The watch's system of three readily removable bands allows for individualized styling options: leather, rubber, and 18K 5N pink, rose gold and yellow gold each. A symbol of official name of Vacheron Constantin, the top watch manufacturer, Maltese cross is tastefully displayed in the bracelet's links.
Vacheron Constantin Watches Watches | FiftySix Complete Calendar 4000E/000R-B065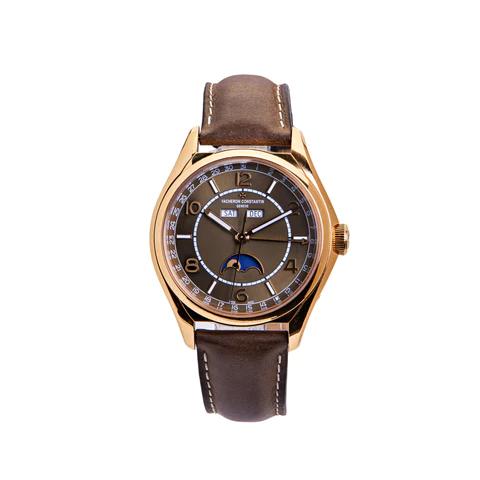 FIFTYSIX COMPLETE CALENDAR
This 18K 5N pink rose gold, wristwatch shows all the calendar date indicators and the timepiece is a masterful mashup of styles and the world time periods. Every 122 years, you'll need to update the date, small seconds hand, the day and month aperture, and the accurate moon phase. The moon phase, which is made of 18K 5N pink gold, complements the rose gold side of the watch manufacturer the sepia-brown dial well, especially when set against a blue sky. The sophisticated brown calfskin-leather strap embodies the genuine spirit of the Fiftysix series timepieces.
Vacheron Constantin Watches | Overseas Chronograph 49150/000A-9745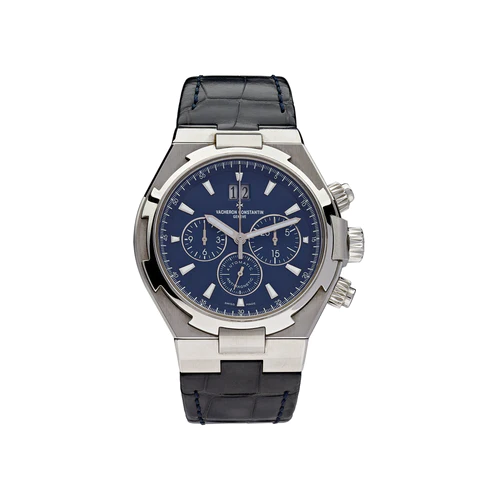 Automatic Vacheron Constantin caliber 1137 movement, blue and rose gold lacquered finish dial with luminous hands and hour markers, 12-hour chronograph, large date at the timepiece 12 o'clock, sapphire crystal, water resistant to 150 meters, diameter: 42mm, thickness: 12.5mm; Vacheron & Constantin 49150 Overseas Chronograph 49150 000A 9745, 49150000A9745. With original Vacheron Constantin packaging, an extra rubber band, and paperwork from the sale and the purchase in April 2015, this watch is in pristine condition (40301)
Vacheron Constantin Watches | Overseas Chronograph 5500V/110A-B481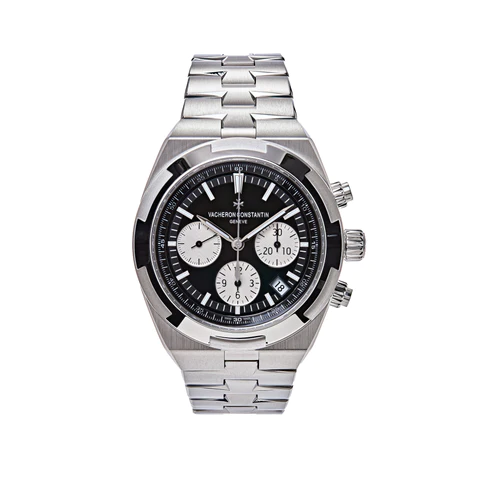 Overseas Chronograph 5500V/110A-B481 This steel watch is both formal and relaxed; details silver dial, on its black side dials and silvered counters make reading the time a breeze while still giving off an air of individuality and quality. There's an openworked caseback that shows a 22-karat gold pendulum decorated with a wind rose, a nod to the wanderlust that inspires exploration. The watch may be customized to the wearer's liking thanks to its clasp and system of three readily replaceable straps (steel, leather, and rubber).
Vacheron Constantin | Overseas 4500V/110A-B126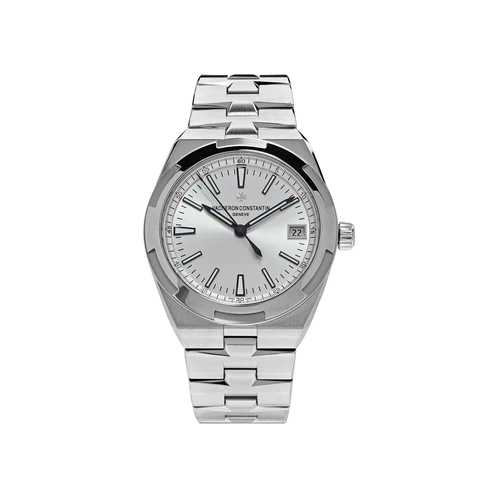 This watch is a testament to the adventurer in all of us women, and its automatic movement has an oscillating weight crafted from 22-karat white gold, that was modeled by a wind rose. The sides of the white gold Maltese cross are discreetly visible through the bezel and the steel bracelet. The watch may be customized to the wearer and wrist it's tastes with the help of the clasp and the system of three readily replaceable straps (steel, leather, and rubber).
Q/A on Vacheron Constantin
Is Vacheron Constantin worth the money?
Vacheron Constantin is a luxury watch brand with a rich history and reputation for exceptional craftsmanship and design. Whether or not it is worth the money depends on your personal values and priorities when it comes to purchasing luxury goods. However, Vacheron Constantin is generally considered to be one of the top tier luxury watch brands, and many collectors and enthusiasts consider their collections of watches to be highly desirable and worth the price and the investment.
How much does Vacheron Constantin cost?
The cost of a Vacheron Constantin watch can vary widely depending in price on the specific model and materials used to manufacture it. Prices for entry-level models start around $20,000 and can go up to several hundred thousand dollars for high-end, complicated timepieces.
Is Vacheron better than AP?
Vacheron Constantin and Audemars Piguet (AP) are both highly respected luxury watch brands known for their many collections and exceptional craftsmanship and design. Whether one is better than the other is a matter of personal preference and subjective judgment. Both brands have a loyal following and produce some of the most sought-after watches in the world.
Who wears Vacheron Constantin?
Vacheron Constantin is worn by a variety of people, including celebrities, business leaders, and watch enthusiasts. Some famous wearers of Vacheron Constantin watches include Queen Elizabeth II, Napoleon Bonaparte, and Harry Truman. The brand has also been featured in popular culture, appearing in movies and television shows like "The Bourne Identity" and "House of Cards."
© 2022 Wrist Aficionado. All rights reserved.